Who came up with the idea for Lassie?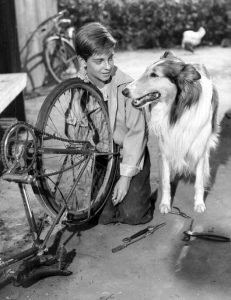 Author Eric Knight did not know one of his creations, the short story Lassie Come Home, which was published in The Saturday Evening Post, would go on to spawn numerous movies three incarnations of the Lassie television series and a weekly cartoon (Lassie's Rescue Rangers, 1973).
Born in England to Quaker parents, Eric Knight led a very interesting life. His father, a diamond merchant died when he was two years old. After his father's death, his mother and he moved to St. Petersburg, Russia where she worked for the Czar's family.
She later moved to America and they settled in Pennsylvania. Knight was a writer, but he also had other professions and life pursuits. At times he was a soldier, fighting in World War I for Canada and America in World War II. He was also an art student and a reporter.
From 1939-1943, Knight and his wife Jere lived in Pleasant Valley, PA. Imagine if you will, the set of the Lassie TV show, but much more picturesque and colorful. The couple raised collies at Springhouse Farm and the inspiration brought forth Lassie Come Home as a short story and in 1938 and in 1940, Knight expanded the short story first published in The Saturday Evening Post, into a novel.
Lassie Movies
MGM made the book into a feature film in 1943 titled Lassie Come Home. Due to its success at the box office ($4,500,000), more Lassie movies were made. They were Son of Lassie (1945), Courage of Lassie (1946), Hills of Home (1948), The Sun Comes Up (1949) and Challenge to Lassie (1949). The popularity of Lassie also spawned a radio show which ran from 1947-1950.
During and after the original Lassie TV show, there were additional Lassie films. These were Lassie's Great Adventure (1963), The Magic of Lassie (1978), Lassie (1994) and Lassie (2005).
The Lassie TV Show
Between the ending of the Lassie movie series and the beginning of the TV show, Lassie spent time with her trainer Rudd Weatherwax traveling to rodeos and county fairs making personal appearances. Lassie was extremely popular and kids waited in long lines to meet her.
The somewhat new medium of television in the early 50s needed fare to fill its airwaves, Lassie's owner Rudd Weatherwax was convinced by producer Robert Maxwell that Lassie could be the star of her own television series. After all, the movies had been popular and the reasoning went that Lassie would find even more fans through television audiences. The show debuted on CBS September 12, 1954.
As any true fan of Lassie will know, the show had many changes over its run. It began with a widowed mother and her father-in-law and her son Jeff living on a farm. Eventually, the actors who played the widow (Jan Clayton) and son (Tommy Rettig) decided to leave the show, creating an opening for Timmy and his adoptive parents Ruth and Paul Martin. The actors playing Ruth and Paul changed along with ownership of the show. In 1957, Jack Wrather, owner of the Lone Ranger, purchased the show. It is not known if his ownership were the cause of any of the actor changes. Finally, some stability came to Lassie when June Lockhart and Hugh Riley took over the roles of Ruth and Paul Martin. They remained in their roles for 207 and 170 episodes respectively.
After Jon Provost decided to leave the show in 1964, Lassie took on an entirely different direction. No longer would there be a a simple "boy and his dog" storyline. This new direction made Lassie a friend of forest rangers and the show became a vehicle to bring attention to environmentalism and conservation. This period of Lassie continued until 1971 when Lassie ventured out on her own to travel all over having adventures, sometimes with no humans at all in various episodes. Finally, in the last two seasons, numbers 18 and 19, Lassie lived on the Holden Ranch, a home for orphaned children.
The original show ended on March 24, 1973.
Other Lassie TV Shows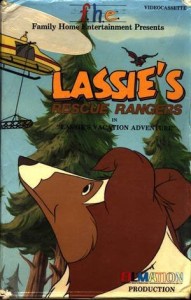 1972-73 – Lassie's Rescue Rangers
1989-1992 – The New Lassie w/ Jon Provost as Steve McCullough
1997 – Lassie (for Animal Planet)
Original Lassie on TV
Lassie is currently syndicated by DreamworksClassics. It is seen on the Smile of a Child Network which is owned by the Trinity Broadcasting Network.
.
Related posts:
Comments
comments