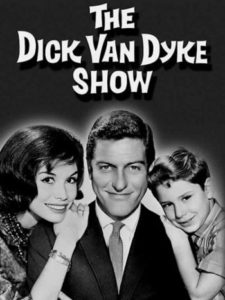 Comedy doesn't get much better than the Dick Van Dyke Show. Creator Carl Reiner came up the concept based on his own history as a television comedy writer. In 1960, he produced a TV pilot titled for the series Head of the Family. This series, as happens in many TV pilots of many a successful series, the original had different actors playing the parts of the characters we have come to love over the many years of watching Dick Van Dyke Show episodes in syndication. One year later, after the pilot failed to garner a sponsor and a network willing to air it, the show was tweaked and debuted on CBS re-named The Dick Van Dyke Show after its star.
The Dick Van Dyke Show centered around the Petrie family, Rob, Luara and their son Richie. Rob worked as the head comedy writer for the Alan Brady Show. Locations prominent in the show are the Petrie home in New Rochelle, NY, Rob's Manhattan office and Danville, IL, Rob's hometown which is mentioned many times and is also seen in some flashback scenes. Danville also happened to be Dick Van Dyke's real hometown.
Over the course of the five seasons of the Dick Van Dyke show, many well know Vaudevillians and radio show stars were given guest appearances. Among these were Amzie Strickland, Herb Vigran, Bert Gordon and Richard Haydn. Dick Van Dyke's co-stars Rose Marie and Morey Amsterdam also got their start in vaudeville.
The show is much loved due to its long run in syndication. As many fans know, Mary Tyler Moore went on to star in her own show in the early to mid 1970s. Dick Van Dyke later starred in the New Dick Van Dyke Show and the two reunited in 2004 for The Dick Van Dyke Show Revisited. This reunion was not very well received.
The Dick Van Dyke Show is one of the classiest of classic comedies and will be adored by true lovers of comedy forever and ever and ever.
Related posts:
Comments
comments